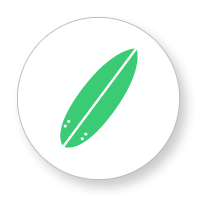 EQUIPMENT HIRE
As well as surf lessons in the Baie des Trépassés, Audierne Surf School has an equipment-hire service, open to everyone.
At the Baie des Trépassés, we offer hire services for surfing (longboards, evo boards and shortboards) Stand-up Paddle-boards, Body-boards, Kayaks and wetsuits.
In Audierne, the surf shop also offers equipment hire, but you need to book ahead so we can transfer the kit you need from our stock to the shop, ready and waiting.
HIRE PRICES
1 hours
2 hours
Half-day
Surfboards (longboard-shortboard)
At the Baie des Trépassés in Plogoff
Or the Surf Shop in Audierne
11€
20€
30€
Wetsuits
Baie des Trépassés in Plogoff
6€
10€
20€
Stand-Up Paddle Board + oar
At the Baie des Trépassés in Plogoff
Or Pontoon G in Audierne
12€
20€
30€
Stand-Up Paddle + windsurf sail
Board + windsurf rig
At the Baie des Trépassés in Plogoff
Or Pontoon G in Audierne
20€
30€
50€
Kayak
At the Baie des Trépassés in Plogoff
11€
15€
25€